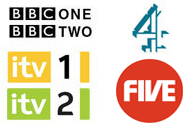 A quick guide to UK TV in France.

When the question comes to get UK live TV channels in France the choice is between a satellite receiver, broadband HD TV reciever, or web streaming TV online services.
A total of 160 UK TV channels are available for FREE via a satellite dish and if this is not enough a sky subscription will add even extra choice. When you don't want or you can't have a dish your next choice is the dish-free Broadband TV receiver working anywhere in France, Spain, Portugal and around the World as long as you have decent internet.
The Broadband HD "dish free" receiver is growing quickly in popularity as the BBC Astra satellite signal is now quite weak and hard to get in the South of France where typically a 125 to 150 cm dish is needed to receive correctly the BBC channels. Contrary to satellite reception which is completely free to watch, the broadband signal requires a monthly fee.
Internet TV ( also known as Broadband TV) is the quick solution to receive immediately all UK public TV channels and your favourite series on your HD TV screen in France. And most importantly - you can also record as an option. You can sign up for a month of service at the price of EUR 16 and pay only for the few months time you spend here in France. There is no annual engagement, you can pause the service through a Web portal which makes this system quite flexible for the holiday home. This is also the ideal TV solution for rented properties so british visitors can have some access to live tv from home durring their stay. So Satellite or Broadband reception? or just watching on i-phone or a tablet? Find out more, ask for our documentation here it includes full details, channel lists, prices and other useful information to help you choose the right for your needs TV system.


How can I be sure it will work for me?
If you decide to go for a standard satellite system - All of France is covered, we have partners to help you with home installation throughout the country, and of course this is a professional and garanteed work. If you go for the second choice - Broadband UK TV - To avoid dissapointment you must first mesure your real internet speed. While in big cities and towns speed in not a problem, the situation in the countryside is different and and in rural remote farms and houses internet TV is not really an option. Simply scroll down to the bottom of this page and press the "make speed test" blue button. If you see a result of 3 Mb/sec or higher in download it will work for you. Only the DOWNLOAD speed is of importance, and the "upload speed" will not affect your TV reception.
See different ways to connect this device, check "more details"
More Details